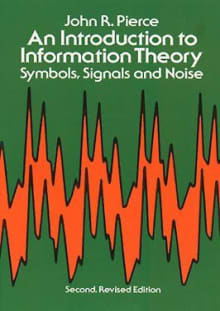 Introduction to Information Theory: Symbols, Signals and Noise
By John R. Pierce
Why this book?
Pierce was a contemporary of Claude Shannon (inventor of information theory), so he learned information theory shortly after it was published in 1949. Pierce writes in an informal style, but does not flinch from presenting the fundamental theorems of information theory. Some would say his style is too wordy, and the ratio of words/equations is certainly very high. Nevertheless, this book provides a solid introduction to information theory. It was originally published in 1961, so it is a little dated in terms of topics covered. However, because it was re-published by Dover in 1981, it is also fairly cheap. Overall,…
From the list:
The best books on information theory
When you buy a book we may earn a small commission.