Modern Mathematical Statistics with Applications
By Jay L. DeVore, Kenneth N. Berk,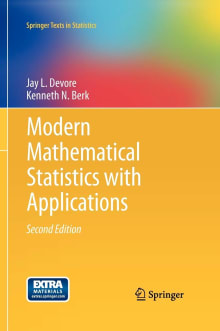 Why this book?
One of my favorite professors, Gretchen Martinet, used this to teach a course called "Mathematical Statistics" when I was at the University of Virginia. It is an extremely profound course full of dense but fundamental mathematical proofs in classical statistics. 
You will learn why the formula for the normal distribution is the way it is, why the sum of squares appears everywhere in statistics, and how to fit a linear regression by hand. In the same way calculus elevates our understanding of rates of changes, the book elevates your understanding of samples, averages, and distributions. Quant trading requires an intuitive sense of how data, models, and aggregates work, making this content essential for your success.

---