Rage Inside the Machine
By Robert Elliott Smith,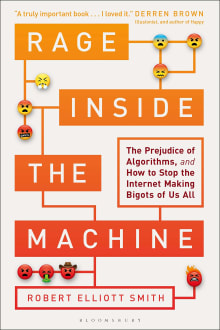 Recommended by Peter J. Bentley
From Peter's list on no hype and no nonsense artificial intelligence.
OK, I'm biased here because Rob is an old friend of mine. We first met at academic conferences and had several heated debates (arguments). But after spending a little time together at a workshop we realised each probably knew what they were talking about after all. Robert Elliott Smith, I should make clear it's not the Rob Smith who writes about "Artificial Superintelligence". Those books definitely do not make this list.
Our Rob is a coherent, grounded scientist with bags of real-world experience, and he brings his knowledge to this title with gusto, telling us about how AI is affecting our lives in ways you never thought possible – and often not in a good way. If you want to understand what can go wrong with AI and what we should be doing to stop it, don't read about singularities or other such nonsense, read this.
---