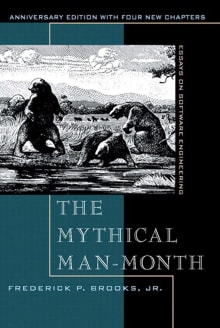 The Mythical Man-Month: Essays on Software Engineering
By Frederick P. Brooks Jr
Why this book?
In the 1970s, Brooks was the leading thinker on managing large software projects in the world, and unexpected delays in completing complex coding tasks were emerging as a costly headache for large organizations. Brooks was considered a software luminary within IBM, which dominated the digital world in the era before the advent of the personal computer.
"In many ways, managing a large computer programming project is like managing any other large undertaking, but in many other ways it is different – in more ways than most professional managers expect," Brooks dryly declared in the opening lines of a book destined…
From the list:
The best books on the human dimension of writing computer code
When you buy a book we may earn a small commission.