The Mythical Man-Month: Essays on Software Engineering
By Frederick P. Brooks Jr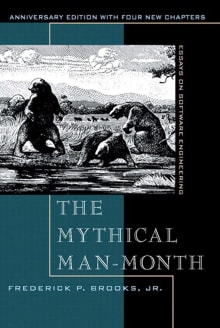 Why this book?
In the 1970s, Brooks was the leading thinker on managing large software projects in the world, and unexpected delays in completing complex coding tasks were emerging as a costly headache for large organizations. Brooks was considered a software luminary within IBM, which dominated the digital world in the era before the advent of the personal computer.
"In many ways, managing a large computer programming project is like managing any other large undertaking, but in many other ways it is different – in more ways than most professional managers expect," Brooks dryly declared in the opening lines of a book destined to become a classic. He went on to explore specific challenges in the book's 15 terse chapters, the second chapter, which gave the title to the entire volume, he presented paradoxical insight that ultimately elevated the book to the status of a classic.
Brooks argued, persuasively and insistently, that adding more coders, or "man months," to a project might actually cause the project to slow down, even to go into reverse. In short, with many coding projects, more people can mean less progress towards the end goal of a bug-free program. Brooks, who became a computer science professor at the University of North Carolina after leaving IBM, remains a luminary with much to teach programmers. 
---
When you buy a book we may earn a small commission.