Requirements by Collaboration
By Ellen Gottesdiener,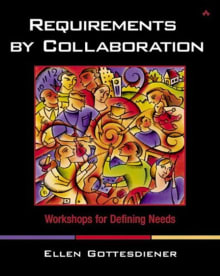 Recommended by Karl Wiegers
From Karl's list on defining software requirements.
Exploring requirements is more about communication than computing. Requirements elicitation often involves discussions between business analysts and user representatives or other project stakeholders in either one-on-one discussions or group workshops. Requirements by Collaboration presents a wealth of practical tools and techniques for planning and leading requirements development workshops. It's packed full of useful tips, checklists, questions to ask, and activities to perform to make workshops effective and successful.
I especially like Gottesdiener's "collaboration patterns," eight techniques that a workshop facilitator can employ to help the group achieve its objectives. The pattern called Decide How to Decide is the first one that any group of collaborators should use: exactly how will we make decisions? If you expect to lead, or even participate in, requirements workshops, read this book first.
---