Mastering the Requirements Process: Getting Requirements Right
By Suzanne Robertson, James Robertson,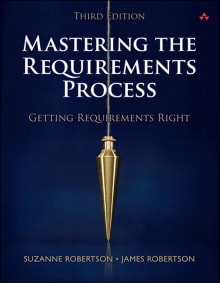 Why this book?
Suzanne and James Robertson have been writing insightful books on software requirements for many years. This book covers all the important topics, including understanding the real problem, different techniques for exploring solutions, and numerous ways to communicate requirements effectively. I especially like their treatment of quality attribute requirements and defining "fit criteria" to judge whether a solution adequately addresses them.
The book includes a comprehensive requirements specification template to guide writing a rigorous and complete specification on projects for which that is valuable. I also appreciate their use of visual models both to communicate with the reader and to guide the reader in communicating requirements to project stakeholders. I do prefer my book Software Requirements, but this is an excellent choice as well by two authorities in the field.

---