201 Principles of Software Development
By Alan M. Davis,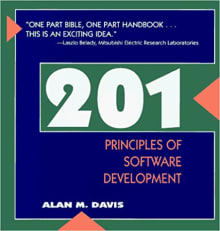 Why this book?
Many of the most significant principles of effective software development are timeless. They're independent of the development life cycle or model, programming language, application type, and so forth. Although this book is quite a few years old now, nearly all of its contents are still valid. The 201 principles cover the full spectrum of software engineering: general principles, requirements engineering, design, coding, testing, management, product assurance, and evolution. The descriptions of each principle are concise, whereas my 60 lessons in Software Development Pearls go into a great deal more detail and offer many practical techniques.
There's an unfortunate tendency among young software people to disregard knowledge from the past as irrelevant to them. That's not correct. This book can help close significant gaps in any practicing software developer's knowledge.
---