The Art of Computer Programming
By Donald Knuth,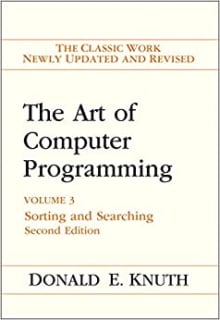 Recommended by Steven S. Skiena
From Steven's list on mathematical and algorithmic thinking.
Knuth's unique mix of playfulness and rigor came to define computer science as an intellectual discipline: computer science didn't really have anything to do with computers, but everything to do with a particular way of seeing the world.  Just browse and wonder at the beauty and precision achieved in these books.   
Volume 3 (Sorting and Searching) is my personal favorite, and I encourage you to start there. During the pandemic, I finally got around to reading Volume 4A (Combinatorial Algorithms), which was published thirty plus years after Volume 3. It was the same feeling I had watching the movie The Phantom Menace years after growing up with the original Star Wars trilogy. I had forgotten just how unique and distinctive Knuth's Art of Computer Programming is.

---