The Journal of the Institute for Hacks, Tomfoolery & Pranks at MIT
By Brian M. Leibowitz,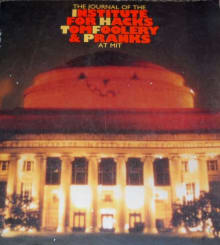 Why this book?
The Journal of IHTFP (look up that acronym!) is a delightful introduction to the original hacking scene at MIT, where hacks were elaborate, extremely clever student pranks—handing out colored cards at a Harvard-Yale football game to spell MIT rather than BEAT YALE when raised by eleven hundred Harvard fans, for example, or sneaking a power supply, multi-piece wooden frame, and the outer metal parts of a Chevrolet Cavalier atop the school's Great Dome, so it appeared that the building was mounted by a real police cruiser, complete with flashing lights and boxes of Dunkin' Donuts. The oversized book includes numerous photographs. Now out of print, it has been replaced by Nightwork by T. F. Peterson, which includes more recent hacks.

---