Little Brother
By Cory Doctorow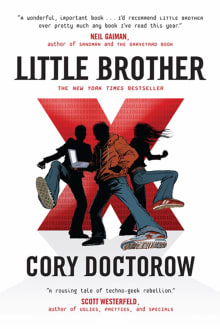 Why this book?
Little Brother by Cory Doctorow relays this message: freedom cannot exist in a world that has given in to the fear of terrorism. Main character Marcus is a teen hacker and a gamer who loves to outsmart surveillance technology. While skipping school one afternoon, he finds himself near the epicenter of a terrorist attack. Within minutes of the attack, Marcus and his friends are taken prisoner by "military looking guys." He later learns they are from the Department of Homeland Security.
Marcus is separated from his friends. During questioning, it becomes clear he is considered a person of interest in the terrorist attack. Completely innocent, Marcus nevertheless refuses to cooperate. He is not allowed to call his parents, who assume he died in the bombing. He is only released after he agrees to sign a form saying he was questioned voluntarily. He is warned to say nothing of what really happened. Upon his return to school, it's evident the terrorist attack has brought on tyrannical changes that all must now abide by. I loved this book because it frightened me so much. It was believable. I've seen firsthand how people respond to "security theater," and think they are safer when there are security cameras or restrictions. When the true dystopia arrives, the people will embrace it—out of fear of something even worse.
---
When you buy a book we may earn a small commission.