Astronomy Lab for Kids: 52 Family-Friendly Activities
By Michelle Nichols,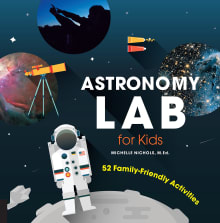 Why this book?
I love science and this book specializes in astronomy. Nichols helps kids get excited about the night sky, planets, and much more. She shows them how to make their own telescope and uses a microwave and a chocolate bar to teach them about the speed of light. A great dip into a wonderful topic.
---