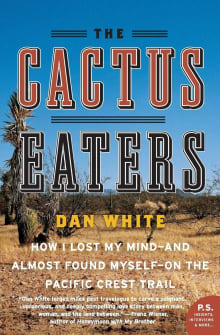 The Cactus Eaters: How I Lost My Mind—and Almost Found Myself—on the Pacific Crest Trail
By Dan White
Why this book?
I'd just finished the Camino de Santiago, and my hiking addiction was borderline dangerous. I read everything I could get my hands on, especially about the Pacific Crest Trail, which was next on my list. This is a simple, well-told story of a guy and his girlfriend who decide to hike a long-distance trail. It's a familiar tale which happens every year. White tells it well, speckles it with humour, and gives a fun-filled insight into one of the greatest long-distance trails on earth.
From the list:
The best books on hiking, adventuring, and the outdoors
When you buy a book we may earn a small commission.