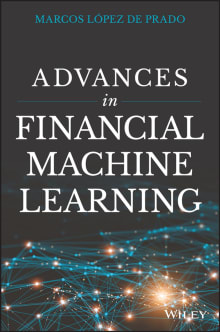 Advances in Financial Machine Learning
By Marcos Lopez de Prado
Why this book?
By now, you may notice that I like to recommend textbooks. I use this bestseller for my course in Financial Machine Learning at Northwestern University, but really, nobody interested in financial machine learning hasn't read this book. The topics are highly relevant to every investor or trader – I read it at least 5 times to digest every nugget and have put them to very productive use in my trading as well as in my fintech firm predictnow.ai. It covers basic techniques such as random forest to advanced techniques such as Hierarchical Risk Parity, which is a big improvement over…
From the list:
The best quantitative trading books for beginners
When you buy a book we may earn a small commission.