Architects of Intelligence
By Martin Ford,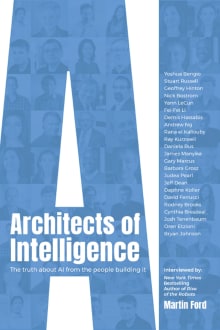 Book description
Financial Times Best Books of the Year 2018
TechRepublic Top Books Every Techie Should Read
Book Description
How will AI evolve and what major innovations are on the horizon? What will its impact be on the job market, economy, and society? What is the path toward human-level machine intelligence? What…
Why read it?
1 author picked Architects of Intelligence as one of their favorite books. Why do they recommend it?
Paul Thagard
This book provides a good introduction to the current state of machine intelligence through interviews with many leading practitioners including Geoffrey Hinton, Yann LeCun, Stuart Russell, and Demis Hassabis (DeepMind). You will get a sense of both of AI's recent accomplishments and how far it falls short of full human intelligence.