The Last Quarter of the Moon
By Chi Zijian, Bruce Humes (translator),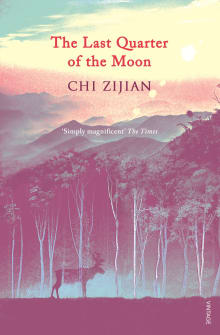 Recommended by Alice Poon
From Alice's list on novels that take place in China.
This is a very unique novel about the life of a nomadic tribe of hunters and reindeer herders called Evenki who reside in the northern part of Inner Mongolia. The story is told through an old woman at the end of the 20th century looking back at the joyful and tragic events of five generations of her clan. Wild nature is at its most beautiful and most cruel. Then the Japanese invasion, the Chinese lumber trade, and modernization gradually force the tribe to give up their carefree lifestyle. Sadness drips from the story, told in a wistful and quiet tone.
I love the novel for the rich imagery of nature and the human interaction humming underneath.
---