Ten Years of Madness
By Feng Jicai,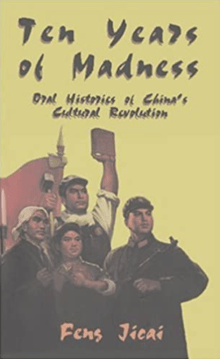 Recommended by Fan Wu
From Fan's list on the best books about China's Cultural Revolution.
Oral history as a literary form is relatively new in China. When asked why he wrote the book, Mr. Feng replied that it was because of his guilt as a survivor and as a witness. The Cultural Revolution has devastated and scarred generation after generation in China, yet most people are silent about their personal experiences. Feng conducted numerous interviews with ordinary people who had lived through that period and wrote these intimate stories in the collection. Every voice is different and deeply personal; together, they portray one of the most disturbing and tumultuous times in Chinese history. 
---