Everyone Poops
By Taro Gomi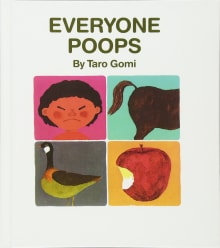 Why this book?
Everyone Poops is the first book to introduce potty training to toddlers, regardless of where they are on the readiness continuum. It is a must-have in the library of every 18-24 month old. Watch children's eyes as you read it and you will immediately know something valuable about their potty curiosity! Most importantly, it is the best example of a potty training book that does not push a potty training agenda. Everyone Poops is a biology book, no hidden messages encouraging children to give up diapers before they are ready. 
But, Everyone Poops introduces very important vocabulary. And, yes, it's fun to say "poop" a hundred times a day while you're learning something new about how your body works. And, Everyone Poops also reminds children that one day they will choose where to poop – some animals poop in the water. (Note to readers: good place to insert jokes about pooping in the bathtub!) This book begins the adventure of studying poop all around the neighborhood – the size, the shape, the color, and even the smell!

---
When you buy a book we may earn a small commission.