The WEIRDest People in the World
By Joseph Henrich,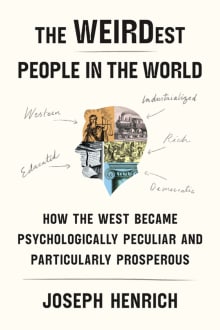 Recommended by Paul Collier
From Paul's list on how to renew our divided societies.
Don't be by the weirdest title in the world, this is another landmark book and it perfectly complements The Upswing. Combining deep social history, - Europe in the Early Middle Ages – with revolutionary research on evolutionary biology, it shows how a distinctive inflection point fortuitously broke the otherwise universal practice of kin-group mating. This gradually released parts of Europe into forging the purposive social capital that Putnam celebrates. Nor need you be deterred by Heinrich's polymath credentials – he currently heads Harvard's Department of Evolutionary Biology, but could equally hold chairs in Anthropology or Economics – he writes beautifully for a general audience.

---