I Like You
By Sandol Stoddard Warburg, Jacqueline Chwast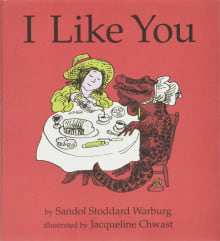 Why this book?
I love this charming book about the kindness that comes with friendship. Pen drawings accompany the text, which is at certain times silly, other times fun, and at the best of times poignant. Point in case:
"And I like you because
When I am feeling sad you don't always cheer me up right away
Sometimes it is better to be sad."
I'm not sure every child would understand the significance of that sentence. But the words at some point in their lives will come back around. The book lists reasons why we like our friends, namely because they offer us kindness and empathy when we are down. And when we are up, they take pleasure in the moment right alongside us – a valuable lesson for kids.

---
When you buy a book we may earn a small commission.