The Suitcase
By Chris Naylor-Ballesteros,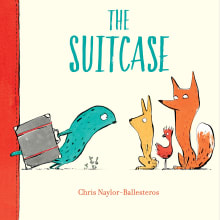 Book description
Shortlisted for Oscar's Book Prize 2020

Shortlisted for the 2020 CILIP Kate Greenaway Medal

"At a time when over 65 million people are forcibly displaced around the world, this beautifully illustrated and wise, gentle tale of tolerance and kindness for fellow humans resonates deeply. I hope all parents share The…
Why read it?
3 authors picked The Suitcase as one of their favorite books. Why do they recommend it?
Ellen Tarlow
This is a deeply touching story about the increasingly relevant topic of stranger fear. A weary blue creature arrives in a strange land carrying a large suitcase. Not knowing what to make of this stranger; a fox, a bird, and a rabbit break into its suitcase to discover its secrets. What they do uncover is a photo of the creature's lost home. So they come to see all that that the creature really is and all it has lost. In a larger sense, the story speaks to how difficult it is to see what each of us is carrying inside…
Hollis Kurman
I fell in love with this picture book when I first spotted it at the Bologna Children's Book Fair in 2019. With its simply but beautifully illustrated animal characters, The Suitcase manages to tap into universal truths of the refugee experience, of childhood, and of being human, all at the same time. The book suggests that the best way to put broken lives back together is through kindness and trust. And yet it is not overly sweet. The characters wrestle with the fear of 'other' and with the forces of right and wrong. The symbols (the suitcase, teacup, chairs…)…
Sarah Williamson
This book is extremely timely in that it alludes to welcoming all strangers, no matter what the circumstances. A tired stranger/animal arrives at the scene with a mysterious suitcase. Three animals look at him curiously and don't believe him when he says there is a teacup and a table in the suitcase. They break open the suitcase showing the reader a glimpse of transgression. What follows is a tale of kindness and empathy.