Extra Yarn
By Mac Barnett, Jon Klassen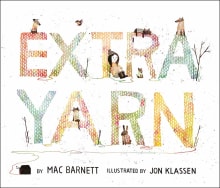 Why this book?
Extra Yarn is one of my very favourite books. It is the story about what you might do if you found a little bit of extra yarn. This yarn (in both senses of the word!) is inclusive, unexpected, as well as completely fantastic. 
The text of the story is subtle and leaves a lot of the story to be told through the illustrations and I am a huge fan of Jon Klassen's illustrations. In this book, his beautiful, colourful wool really works to offset the darkness of the cold winter landscape.
This is simply a visually delightful and clever story with lots for kids and adults to enjoy.
---
When you buy a book we may earn a small commission.