The Sea Serpent and Me
By Dashka Slater, Catia Chien (illustrator),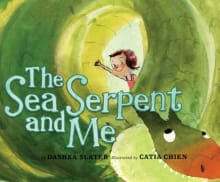 Why this book?
When a tiny sea serpent suddenly drops out of the faucet and into a girl's bath, an immediate and playful friendship begins. As the sea serpent grows bigger, he tells the tale of how he was carried by a tornado over jungles and silvery cities until he landed in a lake and was whooshed up by a pipe. He sings fanciful songs about the deep blue sea and fish-shaped like guitars. Eventually, he grows so big that the little girl knows it's time he returns to the sea. So, she helps the sea serpent, now big as a whale, overcome his fear of being left on his own, reminding him that he won't be lonely, and will have new adventures with newfound friends. Catia Chien's gorgeous illustrations are very expressive and a beautiful compliment to this lovely story of learning to let go and do what's right. 
---