A Midwife through the Dying Process
By Timothy E. Quill,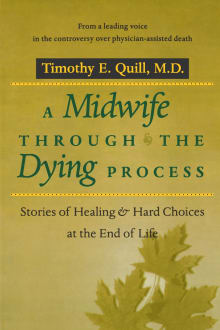 Why this book?
In 1991 I was a young lawyer, just learning about the death-with-dignity movement. I had practiced nursing and medicine for 20 years and tended many dying patients. But I'd thought little about patient choice and empowerment at the end of life. In my ignorance, I turned to Dr. Timothy Quill and was struck by his clarity and courage. Tim was the first mainstream physician to be candid and compassionate about patients' legitimate wish to advance the time of death if cancer or other illness traps them in "their worst nightmare." This book, and his earlier Death with Dignity, are the definitive primers into the hows and whys of medical aid in dying, a practice that is authorized in many states now, but was a felony everywhere when Dr. Quill brought it to light.
---