The Art of Dying Well
By Katy Butler,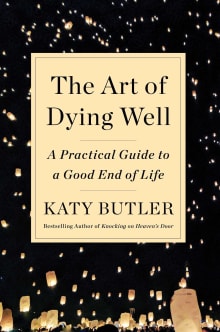 Recommended by Lisa J. Shultz
From Lisa's list on end-of-life planning.
This book was helpful for me to navigate the finale of my parent's lives. But The Art of Dying Well isn't just about one's parents. Many baby boomers are unprepared for dealing with their own aging. I suggest reading it well before you need it. Knowledge is power, and Butler's book gave me the gift of learning more now, while things are relatively calm. A crisis visit to an ER isn't the time to cram in education and research. You may need to be an advocate for yourself or someone you love sooner than later. I have suggested the book to my siblings and friends, which will hopefully lead to meaningful conversation and planning to support each other through our elder years. I am grateful for Butler's practical guide, which is filled with wisdom and resources. I anticipate referring to it again and again as I age. 

---