A Guide to Rational Living
By Albert Ellis,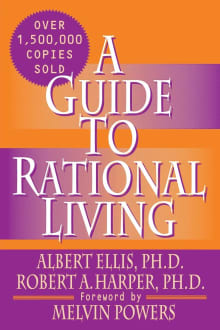 Recommended by Ronald W. Pies
From Ronald's list on Stoicism through the eyes of a psychiatrist and ethicist.
Does your happiness depend on the opinion and good will of others? Or can you live a happy and fulfilled life even if others disapprove of you? Do events make you happy or sad, or do your emotions arise because of your thinking—whether rational or irrational? These are the central questions that psychologists Albert Ellis and Robert Harper address in this timeless classic of self-growth and self-care. The authors explicitly draw on the Stoic philosophers, including Epictetus and Marcus Aurelius, as forerunners of Rational Emotive Behavioral Therapy. Of all the books on the subject of living happily, creatively, and meaningfully, this one is near the top of my list.

---