How to Think Like a Roman Emperor: The Stoic Philosophy of Marcus Aurelius
By Donald Robertson,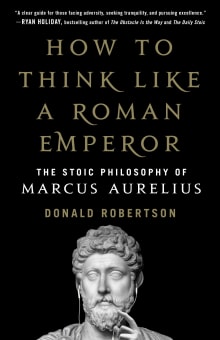 Why this book?
This book is an excellent introduction for those new to Stoic philosophy and a treat for those who know the Stoics well. Robertson, a psychotherapist and renowned expert on Stoic philosophy, weaves together noble Stoic insights on how to live a tranquil, happy, virtuous, socially responsible life with the most effective techniques of modern cognitive psychotherapy that grew from those insights. His deep knowledge of and respect for the wisdom of Marcus Aurelius also rings clear from these fascinating pages which bring the ancient philosopher-emperor to life as a noble guide to the good life for citizens of the 21st century.

---