The Art of Living
By Epictetus, Sharon Lebell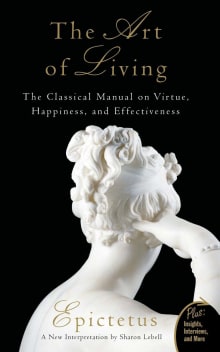 Why this book?
How do you get a quick understanding of what Stoicism is and what it can do for you? There are many good books on Stoicism, but not all of them are easy to follow. If they are easy to follow, they are not short. Sharon Lebell's The Art of Living is short, clear, and is a faithful rendition of Epictetus' Handbook. By just investing a few hours in this book, you can become a better person living a more pleasant life (assuming you follow the principles!). In this book, Epictetus shows us how to live a life that leads to freedom and happiness.
Why this version? The Art of Living is not a scholarly work and is not a true translation of the original. It is a modern English rendering of it, a good place for a beginner to start their journey into Stoicism.

---
When you buy a book we may earn a small commission.