Narrative Means to Therapeutic Ends
By David Epston, Michael White,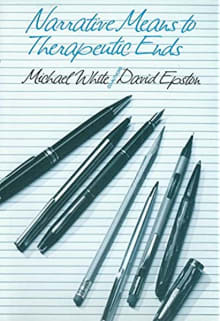 Recommended by Peter Vernezze
From Peter's list on psychotherapy and its philosophical origins.
Narrative Therapy (of which this book is the founding text) traces its roots back to the French philosopher Michel Foucault and postmodern philosophy. Not that anyone can agree on a definition of postmodernism. Invoking Foucault's critique of power, narrative therapy sees the DSM-5 (the standard list of mental illness that is akin to the Bible in psychiatry) as grounded not in objective truth but as a mostly fabricated list of pseudo-diseases a profession has conjured up in order to assure it is well-paid. Narrative therapy works not on attempting to change any objective condition the client may inhabit but to motivate the patient to change his subjective view of his condition.

---