Destination Unknown: Adventures of a WWII American Red Cross Girl
By LeOna Cox, Kathleen Cox,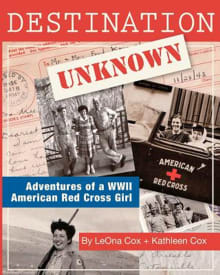 Why this book?
I absolutely love the layout of this book–the title, the photos, and the fonts. This irresistible chapter heading made me want to know more: "Training: Thrilled to Death with Everything." At the start of the book, I knew nothing about World War II Red Cross volunteers and next to nothing about the war in Africa. LeOna's letters are so exuberant with descriptions so vivid you feel like you are walking in her footsteps. I love the photos with her smiling face. I finished this book with a deep respect for the dedicated women who worked so hard to provide soldiers with comfort and a connection to home.
---