Plato and the Creation of the Hebrew Bible
By Russell E. Gmirkin,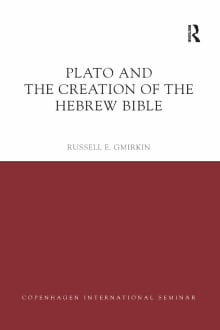 Recommended by R.G. Price
From R.G.'s list on the best books about the (actual) origins of Christianity and Judaism.
Along with his other book, Berossus and Genesis, Manetho and Exodus: Hellenistic Histories and the Date of the Pentateuch, Russell Gmirkin puts forward compelling evidence to show that many of the most revered works of Jewish scripture were produced after the conquests of Alexander the Great, hundreds of years later than widely believed. Relationships between the Jewish Torah and the works of Plato have long been acknowledged by scholars, dating back to antiquity. Jews had long claimed that it was Plato who had derived his concepts from their writings, but here Gmirkin shows convincingly that the relationship goes the other way around. This realization has profound implications for our understanding of the origins of Judaism and Christianity.
---