Zen and the Art of Motorcycle Maintenance: An Inquiry Into Values
By Robert M. Pirsig,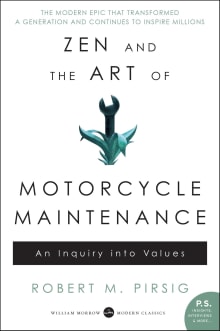 Why this book?
My friend Mandy says she doesn't believe in conspiracy theories because people aren't that organised. Admittedly, governments have acted in lockstep recently but Robert M. Pirsig would agree with her—and if you've ever been stuck on hold for over an hour only to be cut off, problem unresolved, you'd agree with him! In Plato's day, the world was mostly run by warlords with just a dash of democracy. Pirsig complains of sloppy mechanics too intent on the radio to care about his engine noise. Nowadays the world is run by precariously-employed hungover teens squinting at their drying nail varnish while misfiling your tax return. He calls it 'the spectator attitude' and his first bestselling novel is about why they feel that way, and what we can do about it. 
---