Okay Fine Whatever
By Courtenay Hameister,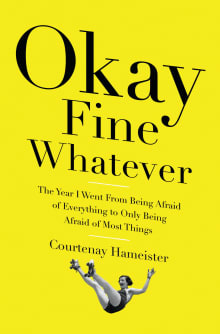 Recommended by Christine Herbert
From Christine's list on by women unapologetic about their hot mess.
An uproarious tell-all about blooming late, taking chances, and being vulnerable. In an effort to cope with the loss of a defining career and face down a lifetime of insecurities about her body, the author decides to tackle anything (self-exploratory-wise) that would normally send her screaming for the hills. Reluctantly but determinately, she takes the plunge into internet dating, professional cuddling, sensory deprivation, polyamory, Brazilian waxing, and more—all the while getting throat-punched by anxiety. Self-deprecating and ribald, Hameister's anecdotes illustrate that sometimes pulling up one's big girl panties can actually mean taking them off.
---