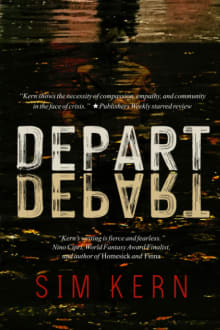 Depart, Depart!
By Sim Kern
Why this book?
When an unprecedented hurricane devastates the city of Houston, Noah Mishner finds shelter in the Dallas Mavericks' basketball arena. Though he finds community among other queer refugees, Noah fears his trans and Jewish identities put him at risk with certain "capital-T" Texans. His fears take form when he starts seeing visions of his great-grandfather Abe, who fled Nazi Germany as a boy. As the climate crisis intensifies and conditions in the shelter deteriorate, Abe's ghost grows more powerful. Ultimately, Noah must decide whether he can trust his ancestor — and what he's willing to sacrifice in order to survive.
I…
From the list:
The best books to inspire action to solve the climate crisis
When you buy a book we may earn a small commission.