After Preservation
By Ben A. Minteer (editor), Stephen J. Pyne (editor),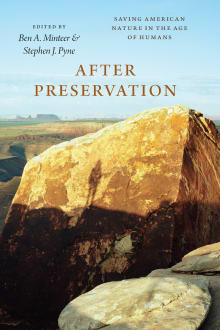 Recommended by Adam M. Sowards
From Adam's list on helping you get deep in the wilderness.
Rarely has a collection of essays inspired and perplexed me as much as this one. One chapter argues one thing; the next argues its near-opposite. And both are persuasive! After Preservation is designed to raise fundamental questions about nature, wilderness, and the Anthropocene without providing definitive answers. I didn't close the book with answers, but I did close it knowing more, thinking harder, and questioning what I believed. If we are meant to save nature—or if we are merely meant to understand why that's a fraught concept—we'll need to grapple with ideas and practicalities like these authors do. 
---