All We Can Save: Truth, Courage, and Solutions for the Climate Crisis
By Ayana Elizabeth Johnson (editor), Katharine K. Wilkinson (editor),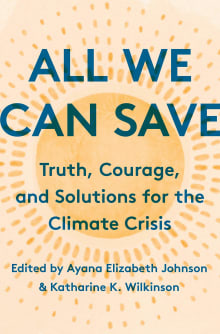 Why this book?
All We Can Save is an anthology of about sixty essays, written by female activists, scientists, artists, policymakers, writers, and thinkers. Together, they offer an eclectic mix of styles and topics, coming from writers with a range of expertise. Wilkinson, a climate change activist, has noted that an impetus for the book was frustration with the fact that much of the public discourse on climate change has been dominated "by the same small cabal of white men." But to adequately address the crisis at hand, the climate movement needs to expand its coalition, with ultimately everyone on board.
The diversity of essays in this book means there's really something for everyone here. The voices of these women offer many entry points into climate change as well as pathways forward. As contributor Favianna Rodriquez writes in her essay, "We need our storytellers—a mighty force—to help us…imagine a future where together we thrive with nature."

---