Not All Wives
By Karin Wulf,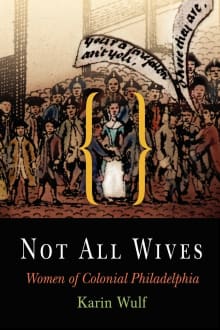 Recommended by Mary Beth Norton
From Mary's list on women in early America.
A well-written study of Philadelphia's single women in the eighteenth century, this book offers an unusual view of women's lives by focusing on the unmarried female residents of an urban middle-colony environment. (Most works on colonial women have studied married women in rural New England.) Each chapter highlights an individual woman and the diverse experiences of others like her, including poor women, dependents in siblings' households, female shopkeepers and other tradeswomen, and women who form organizations with other women. Remarkably comprehensive, it presents a counterpoint to more familiar narratives.

---