Laboratories of Virtue: Punishment, Revolution, and Authority in Philadelphia, 1760-1835
By Michael Meranze,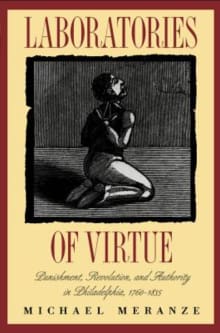 Why this book?
This is one of the first books on prisons I ever read and it's the one that got me hooked. It's not just about prisons, though. Laboratories of Virtue is about the period during and after the American Revolution when the US moved away from colonial-era punishments into the beginnings of what we have today. It was a moment when we could have gone in a lot of different directions, but Meranze shows how we ended up with long-term incarceration as our go-to punishment for serious (and some not-so-serious) crimes.
He brings in developments in society generally, explaining how anxieties about theatre and crowds contributed to middle-class and elite reformers' growing distaste for capital punishment and a preference for privately meting out punishment. This book is a great introduction to how punishment and penal trends are the products of changes in society and perceptions of crime, rather than a direct response to the crime itself.

---