Criminal Injustice
By Glenn McNair,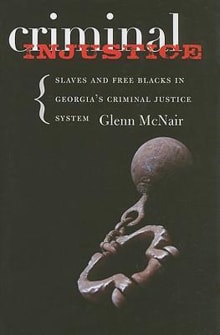 Recommended by James M. Denham
From James's list on the best books on crime and punishment in the Antebellum South.
Of the many books that explore African-Americans' experience in the South's antebellum Criminal Justice System this work stands out.  In this comprehensive study of the criminal justice system of a slave state. Glenn McNair traces the evolution of Georgia's legal culture by examining its use of slave codes and slave patrols, as well as presenting data on crimes prosecuted, trial procedures and practices, conviction rates, the appellate process, and punishment. Based on more than four hundred capital cases, McNair's study deploys both narrative and quantitative analysis to get at both the theory and the reality of the criminal procedure for slaves in the century leading up to the Civil War.

---