Common Families of Flowering Plants
By Michael Hickey, Clive King,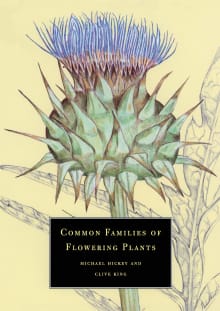 Recommended by Christina Brodie
From Christina's list on fashion, art and science.
I had the great pleasure of meeting Michael Hickey at one of the RHS shows in London, at which I was exhibiting some of my botanical art; a thoroughly nice man, who sadly died soon after. I also met the personable and talented Coral Guest, the creator of the most exquisite botanical paintings, at the same show!
This is an excellent introduction to plant families for the beginner in botanical painting, focusing on 25 core plant families. It leaves out some of the technical botanical detail which would probably be included on an undergraduate botany course, but which would be confusing for the botanical painter who simply wanted to illustrate. It is clearly laid out, written, and illustrated; a must for plant artists, would-be botanists, and even medical herbalists - everywhere!
---