Annihilation
By Jeff VanderMeer,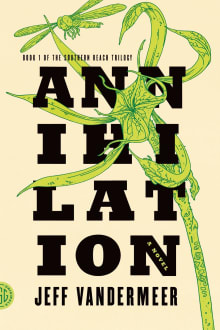 Recommended by Mikhaeyla Kopievsky
From Mikhaeyla's list on gothic sci-fi that explore the darkness of mankind.
You can't talk about weird, gothic science fiction, without mentioning Jeff VanderMeer's Annihilation. The first in the Southern Reach trilogy, VanderMeer's novel is a complex, surreal, and terrifying tale of four scientists who brave the uninhabited, quarantined, and inexplicable 'Area X' in search of answers. Annihilation expertly blends science fiction with the terror and mystery of the gothic: fusing scientific inquiry ("Remember that we are to put our faith in your measurements…The measurements do not lie"), with hallucinations, temporal ambiguity, and mind manipulation. The lush, sentient, and menacing ecosystem is the quintessential gothic setting, and the story, revealed through the journal of the protagonist, is a perfect throwback to the original gothic novel, The Castle of Otranto. A standout example of modern, intelligent, gothic sci-fi.
---