The Story of Snow: The Science of Winter's Wonder
By Mark Cassino, Jon Nelson,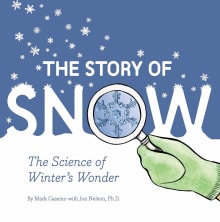 Why this book?
Full disclosure, I worked on this book as an editor. But it's because of that experience that I know how hard the author/photographer and scientist consultant worked to tell this story in a way that was clear and fun for kids! I love reading it to my children and frequently give it as a winter-themed gift. I love the beautiful, through-the-microscope photos of the crystal shapes. I also like how the book clarifies the difference between snowflakes and snow crystals, since we very often refer to snow crystals as "snowflakes" – but they are too small for the eye to see from a distance unless they are clumped together. (The clumps are the "snowflakes.") Such a fun winter read, and a great non-holiday-themed addition to any family's winter book collection.
---