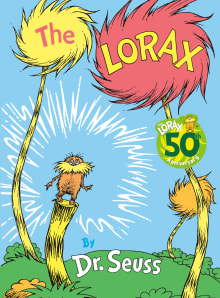 Recommended by Jessica Arnold
From Jessica's list on the best books about imagination and the places it takes you.
I love the colorful illustrations and the silliness of Dr. Seuss books. This book delivers a positive message about our natural resources in a way all can understand. The message is taking responsibility for the problems we create. The seed represents hope for the future.
When I was a child, I went to see an outdoor screening of The Lorax at a local festival. I won a copy of the book and it's been special to me ever since. I think it reinforced the idea that no matter how old you are, you can change things for the better. I also wanted to share something positive through my books.
I use color in the illustrations in my books because when I was a kid, I loved picture books and they were helpful when I was having difficulty with my learning disabilities and how others perceived me. I was ten years…
---