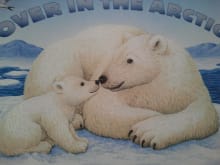 Over in the Arctic
By Connie Roop, Peter Roop
Why this book?
This book is a fun, singalong read written to the tune of "Over in the Meadow" that introduces children to the world of arctic animals. Kids will quickly pick up on the tune and rhyming pattern and be able to read along with the story. The fun, jaunty story is also just the right length for a bedtime read-aloud.

From the list:
The best short rhyming picture books about animals
When you buy a book we may earn a small commission.