There Is No Planet B
By Mike Berners-Lee,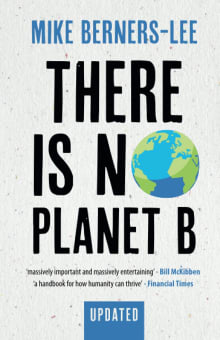 Book description
Feeding the world, climate change, biodiversity, antibiotics, plastics, pandemics - the list of concerns seems endless. But what is most pressing, and what should we do first? Do we all need to become vegetarian? How can we fly in a low-carbon world? How can we take control of technology? And,…
Why read it?
3 authors picked There Is No Planet B as one of their favorite books. Why do they recommend it?
Mark A. Maslin
This book has always inspired me and one of the reasons I wrote my own books on climate change.
What Mike does so brilliantly is take all the problems we are worried about such as climate change, world hunger, biodiversity, antibiotics, plastics, pandemics and provide solutions. These solutions are ones that make us all safer, healthier, and wealthier – and are so obvious you will ask yourself why are we not doping them already.
Mike never preaches, instead he shares his insights with humour and warmth. But underneath all of this is a very clear message we only have one…
Chris Rapley
The most common question I am asked when giving lectures on climate change is "What can I do?"
Mike Berners-Lee's mission is to answer that question in as comprehensive, comprehensible, and helpful way possible. He provides a handbook of justifications and authoritative insights into addressing "how we can make the transition into a new mode of living that works for us and fits our new context (of climate and environmental change) – a way of operating that won't smash the place up and will allow us to thrive despite our power."
The antidote to climate dismay is action,…
Tim Smedley
Rather than weaving a literary narrative, Berners-Lee's aim is to offer something more practically helpful: a handbook for climate action. It's essentially the FAQs page to the climate crisis. What is Ocean Acidification and why does it matter? Should I fly? How could one crop save us over half a billion tonnes of CO2e? He's done the calculations so we don't have to.