Joan Procter, Dragon Doctor: The Woman Who Loved Reptiles
By Patricia Valdez, Felicita Sala (illustrator),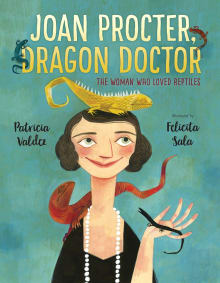 Why this book?
I generally enjoy stories about groundbreaking female scientists, but this one grabbed me immediately because Joan Procter defied multiple stereotypes as a woman working with (creepy, crawly) lizards! I wrote one of my picture books, Except When They Don't, to remind young readers and their grown-ups that gender shouldn't define what clothes kids can wear, what activities they can do, or what careers they can have. So these lines, "Back in the days of long skirts and afternoon teas, young Joan Procter entertained the most unusual party guests. Slithery and scaly, they turned over teacups and crawled past the crumpets" instantly drew me in! 

---