Shark Lady: The True Story of How Eugenie Clark Became the Ocean's Most Fearless Scientist
By Jess Keating, Marta Álvarez Miguéns (illustrator),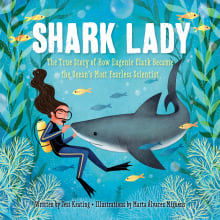 Why this book?
I'll admit, ever since I saw Jaws as a kid I've been terrified of sharks. I don't believe I'm alone in this. But this book offers readers a much more reasonable view of these mighty creatures of the sea, thanks to the fearless scientist, Eugenie Clark, who studied them. When others doubted her and told her to be a secretary or a housewife instead of a scientist, Eugenie only dove deeper into her work, becoming one of the smartest students in her field. And when others thought sharks were nothing but mindless killers, Eugenie proved them wrong. The extensive back matter and Author's Note round out this impressive biography.

---