Lynching and Spectacle
By Amy Louise Wood,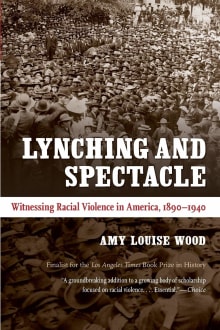 Recommended by David Livingstone Smith
From David's list on the best books on inhumanity.
Most people's idea of lynching is the sanitized version that they have picked up from movies and TV. However, the practice of lynching, as it was carried out in the United States from the late 19th to well into the 20th century, was far more hideous than a few people hanging a man from a tree. This classic contribution concentrates on spectacle lynchings. These were public lynchings attended by hundreds or even thousands of spectators. They involved hours of torture and bodily mutilation, often culminating in the victim being burned alive. Lynching and Spectacle is a vital read for anyone wishing to understand the full horror of American Racism.

---