The Freedom of a Christian, 1520: The Annotated Luther
By Martin Luther, Tim Wengert (translator),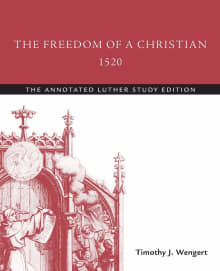 Why this book?
This little book is among the best pieces of Christian literature ever written. Here the church reformer Martin Luther pondered the "both/and" reality of Christians: that believers are entirely set free by Jesus and that believers are totally bound to serve others because Jesus is the one they follow. This book perfectly describes the Lutheran Reformation's conviction that faith is a living and active experience that transforms people and communities through trust in God and love of neighbors.

---