Paradise
By Toni Morrison,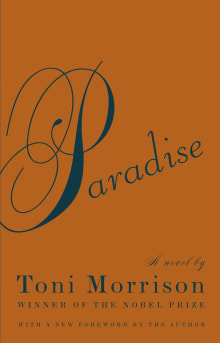 Recommended by John Pistelli
From John's list on ideas of the last 50 years.
Morrison's most ambitious and most underrated novel, Paradise (1997) tells the story of Ruby, a town founded by a group of African-Americans turned away after slavery from other black townships because of their darker skin color. Ruby's male leaders accordingly establish a patriarchal community devoted to keeping bloodlines pure and youth in line. This stern society inevitably clashes with the inhabitants of a former convent on its fringes where a multiracial group of fugitive women come together amid the tumult of the 1960s. In this intensely written and kaleidoscopically structured violent epic, Morrison rewrites the Biblical Exodus and the American myth of westward settlement, she sets Christianity against Gnosticism, and she strives to do nothing less than reinvent religion for the postmodern world. Reading this as a teenager in the late '90s showed me that contemporary fiction could aspire to be as grand and world-changing as the classics.
---